By Mike Tony
Jan 7, 2022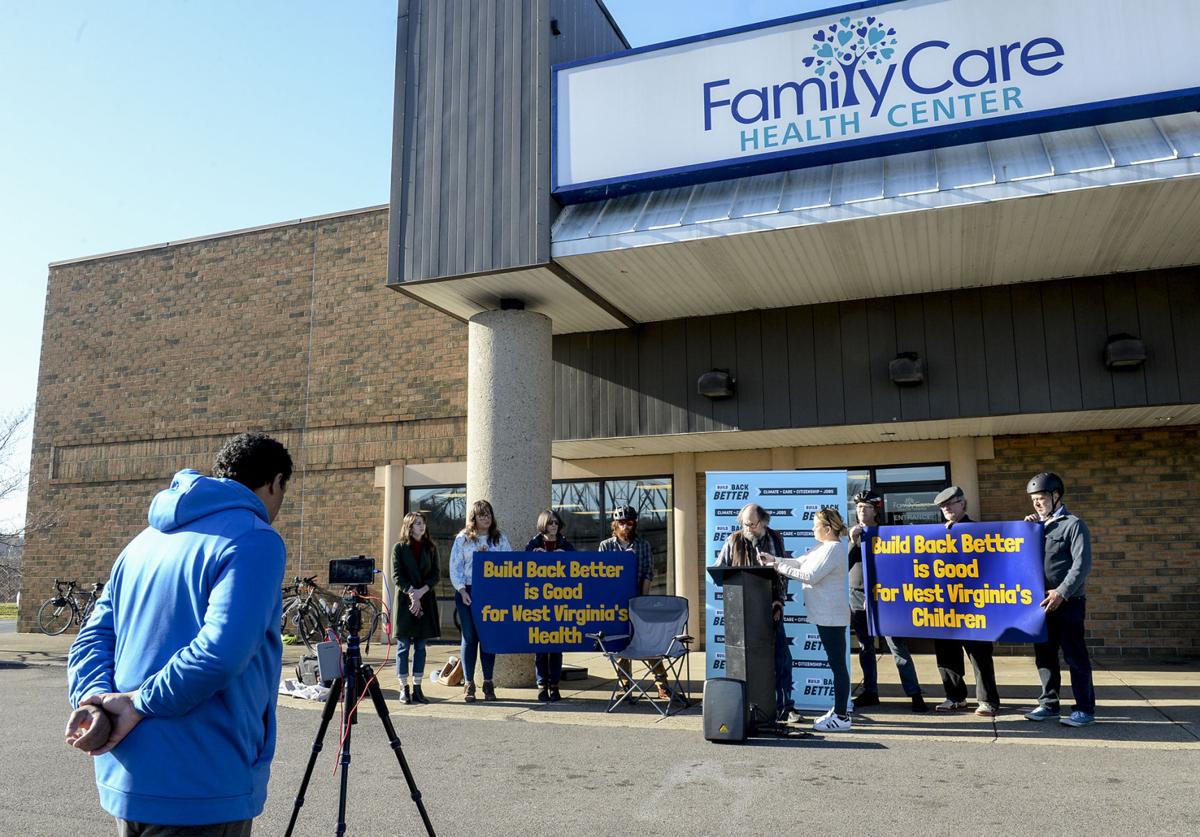 Jeffrey Gordon, 72, of Morgantown takes the podium in front of the FamilyCare Health Center location on Charleston's West Side on Dec. 14 out in favor of the Build Back Better bill. Gordon and others expect the plan to lower prescription drug costs under Medicare Part D, one of s projected benefits prompting the bill's backers to push U.S. Sen. Joe Manchin, D-W.Va., and Sen. Shelley Moore Capito, R-W.Va., to end their to the bill.
Health comes first — even when it comes to the Build Back Better bill.
That was the takeaway from a recent national poll asking voters what their top priorities were for congressional Democrats' $1.75 trillion, 10-year social spending bill.
The sweeping budget package significantly would strengthen the nation's social safety net, set aside more than $550 billion for climate and clean energy measures and make massive investments in child and home care and housing.
But three of voters' top four priorities for the spending package that Republicans on Capitol Hill are united in opposing are about Medicare, according to the Politico/Morning Consult poll.
Two of the priorities were allowing Medicare to negotiate the prices of some prescription drugs and adding hearing benefits to Medicare.
It makes sense that Medicare — the federal health insurance program established in 1965 for people 65 and older
— would be a top priority.
The nation finds itself amid a pandemic leaving a rising number of older Americans at elevated risk for severe illness and death.
Further, the U.S. Census Bureau projects that in 2034, for the first time, America will be composed of more people 65 and older than children.
Red and blue voters in a graying nation seem to agree on expanding Medicare benefits.
The Politico/Morning Consult poll shows bipartisan support for measures that increase Medicare aid.
The share of Republican voters who listed adding hearing benefits to Medicare among their top five priorities for Build Back Better — the White House's brand name for the spending package — was 5 percentage points higher (30%) than the share of Democratic voters (25%).
But the nation's highest priority across party lines for Build Back Better — adding dental and vision benefits to Medicare — isn't in the bill.
A key holdout vote in a U.S. Senate evenly divided among the Democratic and Republican caucuses, Sen. Joe Manchin, D-W.Va., has rejected efforts to add dental and vision benefits to Medicare.
The same day the poll was released, Manchin opened a teleconference with West Virginia reporters by acknowledging his disagreement with fellow Democrats on adding Medicare benefits was holding up the bill.
"[W]hether it be dental or eye care or hearing … I'm not for expanding those right now," Manchin said. "I'd love to be able to do it. I can't do it in good conscience."
Manchin said the nation needed to "stabilize our finances" first. Medicare, he said, is on track to become insolvent in five years.
West Virginia's senior senator was alluding to past projections by Medicare's Board of Trustees that its hospital insurance program, known as Medicare Part A, would become insolvent in 2026.
But the Medicare program as a whole does not face insolvency. The program's Part B, covering outpatient hospital, physician and laboratory services along with medical supplies, and Part D, providing prescription drug coverage, cannot become insolvent because of how they are financed.
If Congress does not address Part A, tax and other income received by the trust fund would cover just 91% of Part A expenses starting in 2026.
The Part A trust fund has been here before. It has faced a projected shortfall since its inception, including past projected insolvencies five years into the future in the 1970s, 1980s and 1990s.
Part A is funded chiefly with payroll taxes on workers, while Parts B and D are financed mainly through general revenue and beneficiary premiums.
Payroll tax rate adjustments, setting up prospective payment systems for some Part A providers and combating fraud and abuse have successfully guarded against Part A insolvency throughout the fund's history.
Many proponents of increasing access to health care say that including dental benefits in Medicare would strengthen Medicare financially, not weaken it, without raising premiums.
"It would probably save money in Part A because people who have bad oral health end up actually getting hospitalized for a range of conditions, very serious sinus infections, lung infections," said Kat Stoll, policy director for West Virginians for Affordable Health Care. "It has an impact on other things like heart disease and even diabetes. If your mouth is not healthy, your body is going to be unhealthy."
Supporters of expanding health care access long have argued that doing so would yield greater savings for not only patients but the entire healthcare system.
Craig Glover, president and CEO of FamilyCare Health Centers, noted that patient concerns about health care costs — especially among those without health insurance — often result in those costs escalating as patients delay care, raising the price of care when they do finally seek it.
"If a person has a chronic illness and they have delayed access to care for months and years over a concern over cost, when they do finally seek care, their condition is so far out of control that it takes a lot more to regulate that and try to get their health under control," Glover said. "So you end up with a higher cost on the back end."
FamilyCare Health Centers is a nonprofit community health group that provides medical, dental and behavioral health services for 32,000 people in southwestern West Virginia — including 2,300 dental patients generating some 4,300 visits a year.
The potential costs of delaying care are disproportionately high among West Virginia dental patients — particularly older West Virginians relying on Medicare.
West Virginia had the third-highest percentage of adults 65 and older who had lost all their natural teeth due to tooth decay or gum disease (26.3%), according to 2018 data from the federal Centers for Disease Control and Prevention. That was nearly double the nationwide clip of 13.4%.
The state had the second-highest number of adults who hadn't visited a dentist or dental clinic in the past year (44.7%), far above the nationwide clip of 33.5%.
West Virginians' health issues extend beyond their teeth — from ear to ear.
The state led the nation in percentage of adults with hearing loss (24.7%) in a 2017 Centers for Disease Control and Prevention survey, nearly 10 percentage points above the national share of 15.9%.
Michael Squires, co-owner of Audiology Services of West Virginia LLC, said the Build Back Better bill would benefit a "significant portion of West Virginians" by allowing a new avenue to hearing aid access for beneficiaries who might have delayed treatment due to device costs.
"Medicare coverage for hearing aids and audiological coverage should encourage a larger segment of the senior population to seek audiological care and treatment," Squires said in an email.
West Virginia had the third-highest percentage of people 65 and older in the country in U.S. Census Bureau 2020 estimates.
Build Back Better proponents point to the state's high shares of older residents and people with long-lingering dental risks and hearing loss as reasons for Manchin and Sen. Shelley Moore Capito, R-W.Va., to set aside concerns about the bill's price tag and embrace its potential value instead.
"Without supplemental insurance, there are certain things that our Medicare-qualified folks don't have access to and likely can't afford," West Virginians for Affordable Health Care Executive Director Jessie Ice said. "And that's not just dental benefits, it's vision benefits, it's even things like hearing aids and ear care and things that aren't necessarily covered but then could become covered under Medicare, which for millions of Americans, this is their health care. That's especially true in West Virginia."
Jeffrey Gordon, 72, of Morgantown trekked to Charleston last month to speak briefly in support of the Build Back Better bill alongside Ice and other consumer advocates in front of the FamilyCare Health Center's Patrick Street location on Charleston's West Side.
Experts say Build Back Better would lower prescription drug costs for people with Medicare. That, in turn, would lower the 12% share of Gordon's income he pays for his seven prescription medications, he said.
"These are drugs that are keeping me alive," Gordon said.
Gordon suffered a stroke three years ago caused by an infected heart valve that had to be removed via open- heart surgery.
Gordon has been closely following the Build Back Better bill. "I'm anxious to see it get passed," Gordon said.
Bill lacks teeth for the toothlessGlover declined to take a position on the Build Back Better bill but said that FamilyCare Health Centers support anything that increases access to oral health care.
"That's sort of a simple no-brainer for us," Glover said.
Glover endorsed expansion of Medicaid, the nation's public health insurance program for people with low incomes, observing that those without health insurance are more likely to require costly care in emergency rooms after delaying care for too long.
"I think that expanded Medicaid is the way to go because it gives more people access to health care," Glover said.
Glover noted that reducing the number of uninsured people winding up in emergency rooms for primary care issues will save hospitals money and keep them from having to ask state public health departments for more reimbursements.
But Manchin has opposed Democrats' goal of expanding Medicaid in states that have not done so, saying it would be unfair to states like West Virginia that already expanded Medicaid under the Affordable Care Act.
West Virginia is one of 39 states that have expanded Medicaid, according to the National Academy for State Health Policy.
The percentage of uninsured people in West Virginia fell from 14% in 2013 prior to the state adopting Medicaid to 6.4% in 2018.
The state added a dental benefit for people 21 and older enrolled in its Medicaid program at the start of last year. The benefit provides $1,000 annually for diagnostic, preventative and restorative dental services.
Stoll sees Medicare benefit expansion as a key next step toward lessening cost burdens carried by West Virginians — and Medicare itself.
She cites a 2016 study by Avalere Health, a Washington, D.C.-based health care consulting firm, estimating that providing a gum disease treatment benefit in Medicare for beneficiaries with diabetes, heart disease or a stroke history would save $63.5 billion from 2016 to 2025. Avalere Health found the savings should continue long-term.
"If you want to extend the solvency of Part A, you need to do things that keep people from being hospitalized. Provide them a dental benefit in Part B," Stoll said. "This isn't even one of those long-term savings propositions that economists like to talk about. The first year, you're going to start saving money. You're going to keep people out of the hospital."
Organized dentistry has pushed back against the White House's plan to add dental coverage to Medicare — a plan shelved in October when the House's budget reconciliation package omitted dental and vision coverage from Medicare benefit expansion.
Build Back Better's backers contend dental lobbyists have opposed the plan because it would not adequately reimburse dentists.
The Academy of General Dentistry, a professional organization representing 40,000 general dentists, hailed the House's vote to advance the bill without Medicare dental coverage in November, saying expansion proposals would "effectively discourage provider participation."
West Virginia's three Republican House members — David B. McKinley, Carol D. Miller and Alex X. Mooney — voted against the bill, balking at its price tag and noting estimates it will raise the national debt.
The Congressional Budget Office estimated the bill would add $367.1 billion to the deficit over 10 years. That doesn't include revenue the bill would collect from enhanced tax enforcement — a figure the office projected would reduce the deficit by $127 billion. The Biden administration has predicted the collection figure will be roughly $400 billion.
The American Dental Association has favored expanding dental coverage only to beneficiaries who make up to three times the federal poverty level.
Medicare has been a universal program. Opponents of means testing say it is more expensive to administer, less politically appealing and results in needy people missing out on benefits.
The Kaiser Family Foundation, a nonpartisan health policy analysis nonprofit, found in July that nearly half of Medicare beneficiaries (47%), or 24 million people, lacked dental coverage as of 2019.
West Virginia Dental Association Executive Director Hallie Mason said her organization concurs with the American Dental Association's stance that any Medicare expansion must be "sufficiently funded and efficiently administered."
"Senator Manchin has displayed great consideration for this issue throughout the Build Back Better debate," Mason said in an email. "He is receptive to our position and we fully support his efforts to craft a fiscally responsible solution."
'Better patient outcomes'Build Back Better as approved by the House would allow audiologists to deliver aural rehabilitation and treatment services starting in 2023 in addition to hearing and balance assessment services provided under current law.
The bill would allow hearing aid professionals to deliver hearing assessment services beginning in 2023.
The bill also would provide for hearing aid coverage under Medicare Part B once every five years given a written order from a physician, audiologist, hearing aid professional, physician assistant, nurse practitioner or clinical nurse specialist.
Squires said the bill would give better access to patients in need of evaluation of dizziness and balance, ear cleaning and therapy practices aimed at reducing communicative and psychosocial consequences of hearing loss.
"The addition of these services to the Medicare benefit allows a broader application of audiological treatment and better patient outcomes," Squires said.
Squires touted the bill's allowance for audiologists to practice autonomously and see Medicare beneficiaries without a physician's referral.
"This means that we can have better contact with our patients and ensure best practices knowing that patients will have coverage for professional services," Squires said.
In November, the Kaiser Family Foundation said the Build Back Better bill passed by the House likely would result in "substantial" savings for Medicare Part D beneficiaries with high out-of-pocket drug costs.
The Kaiser Family Foundation estimated that 1.2 million Part D enrollees incurred out-of-pocket drug costs of more than $2,000 in 2019, averaging $3,216 per patient. A $2,000 cap on out-of-pocket spending enrollees would have saved enrollees $1,216, or 38%, of their annual costs, the group estimated.
Manchin has supported the bill's provision to allow Medicare to negotiate lower drug prices, but his opposition to the version of the bill passed by the House has stopped that and other measures designed to make health care more affordable in their tracks.
The price tag for the bill already has been halved from $3.5 trillion to $1.75 trillion after objections from Manchin and other centrist Democrats that the bill's costs were too steep. But the bill's supporters still hope to pass it in some form, as Manchin has signaled openness to an even more scaled-back version of the bill.
Manchin has cited a national debt nearing $29 trillion, the uncertain future of the COVID-19 pandemic and what he called "geopolitical uncertainty" over relations with Russia and China as his reasons for pushing back against the bill.
He also has accused the bill's supporters of camouflaging what he has called the "real cost of the intent behind the bill," focusing on the cost of the bill's provisions if they are extended beyond the scope of the legislation.
For example, the child tax credit's cost would total nearly $1.6 trillion over 10 years if extended, according to the nonpartisan Congressional Budget Office. But the bill caps the credit extension at one year. Biden and other Democrats have pledged that subsequent extensions would be paid for.
"Until you get your financial house in order, I can't buy [it]," Manchin said of Medicare benefit expansion during a Nov. 2 press teleconference.
Pulling it togetherThree years removed from his stroke, Gordon called his recovery "painfully slow." "I'm still pretty limited," Gordon said quietly.
Moments earlier, Gordon, aided by a cane, lifted his thin frame from a folding chair to take the podium in front of the FamilyCare Health Center in Charleston. He cited his congestive heart failure and voiced his hope Build Back Better's provision allowing Medicare to negotiate drug prices might ease his road ahead.
"I keep putting one foot in front of the other, and hopefully it will get easier in time," Gordon said. Gordon's thoughts turned to Manchin's pushback against Build Back Better.
"I cannot say I'm very happy with how he's used his power," Gordon said. "I'd like to see him pull it together."
For Gordon, pulling it together has meant paying thousands of dollars a year for the medications extending his life. Two blood thinner and heart medicine prescriptions alone have a combined cost of nearly $1,200 a month until Gordon can reach his Part D deductible.
"Drugs don't work if people cannot afford them," Gordon said.
Mike Tony covers energy and the environment. He can be reached at 304-348-1236 or [email protected]. Follow @Mike Tony on Twitter.
Environment and Energy Reporter