We've had a busy season! We hope that you and your loved ones have had safe and healthy holidays. It's a new year, but our mission remains the same. Here's what we have been up to and how you can help! 
Addressing Our Youth Mental Health Crisis and Provider Shortage
We started discussing what we could do, as an organization, to help meet the mental health needs of West Virginia's children during the summer. Several parents had contacted us about a lack of mental health providers covered by their insurance, or providers that accepted Medicaid were scarce, there were not enough beds in emergency facilities near the therapist their child trusted, there weren't enough providers that accepted children and so on. Parents were not solely impacted by the lack of access to local mental health providers. Teachers have been stressing the need for youth mental health supports in the schools. In a state where a majority of students have been affected by the opioid and foster care crisis, increased services and additional funding in these areas are a must. 
This is not an issue that is exclusive to West Virginia. According to the CDC, there has been a 60% increase in youth suicide rates in the past ten years. A global pandemic and social isolation has only contributed to the decline in the mental health of our youth. A national survey was done by America's Promise Alliance in 2020, amongst high school students. They found that almost a third of the students polled were suffering from depression and feelings of unhappiness since the start of the pandemic. Our lack of mental health care providers is already quite dire, with the National Center for Health Workforce Analysis projecting "that by 2025 there will be a 45,000 and 250,000 shortage in mental health professionals". It is enough of a concern that the American Academy of Pediatrics, American Academy of Child and Adolescent Psychiatry and the Children's Hospital Association released a joint statement, declaring a National Emergency in Child and Adolescent Mental Health. 
How do we start addressing this locally? We started by inviting those individuals, who are desperately working to meet the needs of our kids, to a Kids' Health Conference. The Conference was focused on Child and Youth Mental Health needs and solutions. Each expert was asked to share the mental health needs of the children they work with or for, and what they felt were some of the best solutions. If you missed the conference and some of these amazing individuals, I encourage you to view the recordings and join the conversation going forward. Some questions to keep in mind while viewing: How can we keep providers in the state? How can individuals be encouraged to go into this field? In a state with so many families on Medicaid, how can we incentivize mental health providers to accept Medicaid? How do we provide access to mental health providers in rural areas? How do we provide easier access to mental health services in schools? We welcome anyone working to improve the lives of West Virginia's children to join the conversation. 

We have a series of short surveys out, based on the information and suggestions these experts provided, to help narrow down what actions we can take. There will be a conversation with school staff only on January 19th at 6:30pm. If you are a teacher or school employee and would like to join that conversation, please email [email protected]. 
There will be a WV Kids' Health Partnership Meeting on January 26th to discuss all findings, input, and action steps. All are welcome and encouraged to join the Partnership meeting. You can register here. If you have thoughts and input after viewing the conference sessions, or if you would like to discuss youth mental health in our state, please reach out. You can view each conference session below. If you are a parent, mental health provider, or staff of the WV School system, please email [email protected] for the survey that pertains to you. If you are school staff please request the link for the school staff meeting(it is not public to ensure the meeting is school staff only). 
A big "Thank you" to Mission West Virginia for inviting our Director of Child Health to be a guest on their show! Host-Rachel Kinder and guest-Julianne Yacovone discuss the health care needs of West Virginians, child and youth Mental Health, the importance of bipartisanship, a Medicaid Buy-in, and how important it is to prioritize the health of WV mothers. You can view that coversation
here
!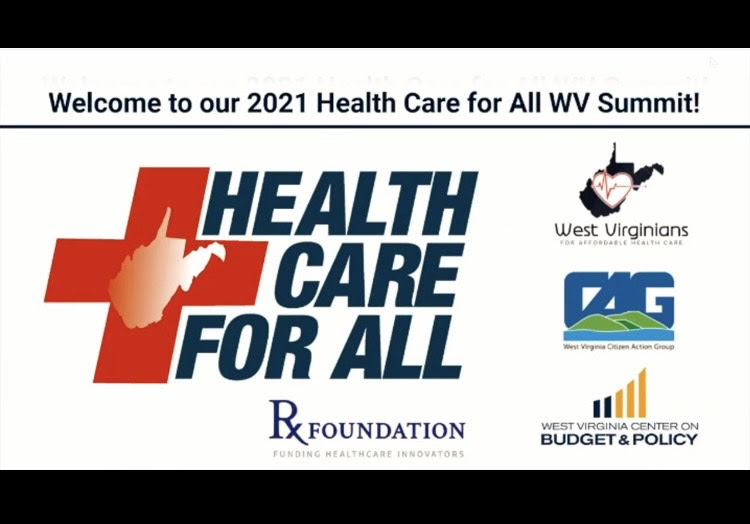 Health Care For All is a collaborative effort between West Virginians for Affordable Health Care, West Virginia Citizen Action Group, and West Virginia Center on Budget and Policy. This past fall the HCFA coordinators organaized a summit to discuss the priorities as listed in the Health Care for all Legislative 
agenda
. We joined together to discuss the impact of SUDs on WV children and families and how health care can help address those needs. You can visit that conversation
here
.
If you are passionate about any of the items listed on the HCFA Agenda and would like to get involved, there will be a Citizen Civic Engagement Training on January 20th at 6pm. If you have questions about this event please reach out to HCFA Coordinator 
Kim Jones
. 
WVAHC was asked to participate in the Bike Back Better event that came through West Virginia in December! This event focused on the importance of Build Back Better to our state and the families that reside here.  Julianne Yacovone, our Director of Child Health, joined the event focused on the Child Tax Credit. Mariah Plante, our Story Collection Coordinator and Jessie Ice, our Executive Director joined the event focused on health care. Check out the comments from WVAHC.org members and others participants of this event. 
Child Tax Credit Bike Stop
Health Care Bike Stop
If you have questions or comments please email

 

[email protected]

. 
Please feel free to reach out with suggestions or information you would like us to share with our partners!